I found a fun faux bois picnic basket at a flea market recently that was pretty fantastic on it's own but certain things are just begging for a little DIY to make them even more special! I used things I had on hand to cover up the rusted metal bottom of the basket and pulled it together in about 90 minutes (trial and error accounted for).
You can makeover any old metal, wicker, or wooden picnic basket for this project. To find your measurements for the inner liner, place your basket on top of your fabric and trace around the base. Cut about 1/4 wider on all sides and then cut out a second piece using the first one as your template. That will give you two pieces that are about the same size as the base of your basket.
Next, you'll measure around the circumference of your basket and add 2". Then measure the height of the basket and add 3". You should get a longer rectangular piece (shown folded above on the left).
Use a piece of chipboard or thin cardboard to create a solid base insert for your basket. I cut out a piece using the same method as above for finding the base measurements for my basket. Then I folded the shorter edge of one of my base pieces of fabric down twice about 1/2" each and stitched across to create a clean hem. This will become the insert's pocket when put together in a later step.
Starting near the middle of one of the shorter edges with right sides together (shown above, left) I started pinning the long edge of the long piece to the perimeter of the base piece. The rounded corners can be tricky so carefully pinning those down before you start sewing will save some frustration. Once you get it pinned together stitch all the way around about 1/4" from the edge (seam allowance).
Note: Start the stitching together process about 1/2" in from the start of your long fabric. This will leave enough room to stitch it to the other end of that same piece. You should now have the basic shape of your insert.
Next you'll fold the top edge down 1/4" and press and again 1.5" and press. Pin all the way around to secure. This will become the casing for the ribbon drawstring. Insert it into the picnic basket and fold it over the outer edge of your basket to make sure it fits. Find the center of the front edge and make a mark as wide as your ribbon. This will be where you stitch a button hole for your ribbon to come out of the casing. You can free hand this part if you hate using that feature on your machine or just leave it raw.
Carefully unpin the button hole section to create it. Then insert your ribbon into your casing making sure it doesn't twist. Your casing should be about 1/4" wider than your ribbon for easy stitching. Once you're ready, stitch all the way around the casing so that it's secure and allows for the ribbon to move through freely. DO NOT stitch your ribbon down or you won't be able to adjust it later. Remove your pins and draw your ribbon tight to test it out.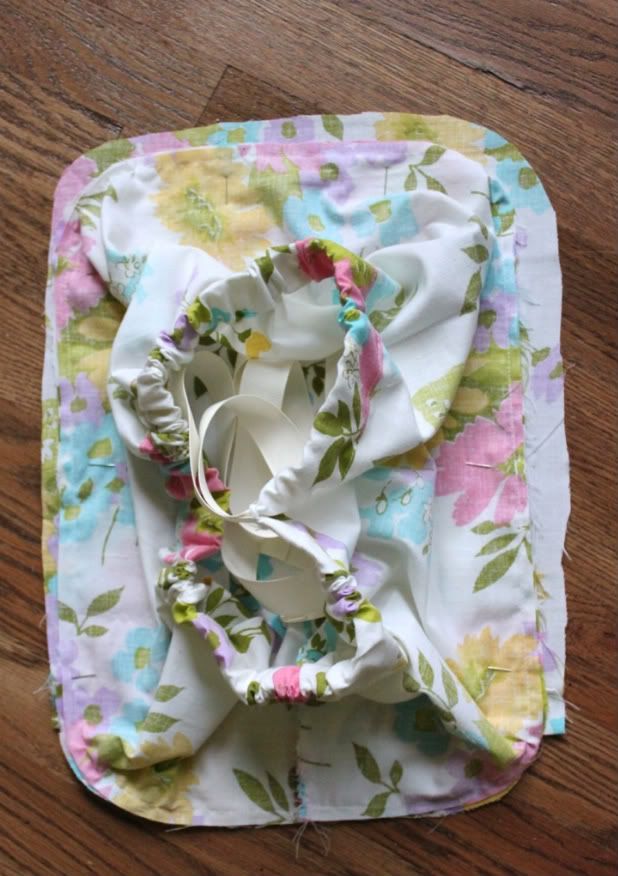 Then you'll want to attach the base insert pocket to the rest of it. Place your base insert fabric right side down and then set your picnic basket insert on top of it. Your base insert piece will probably overlap a bit on three sides. Pin it together. Starting from one hemmed edge of the base insert piece, stitch all the way around to the other and back stitch. Trim your edges.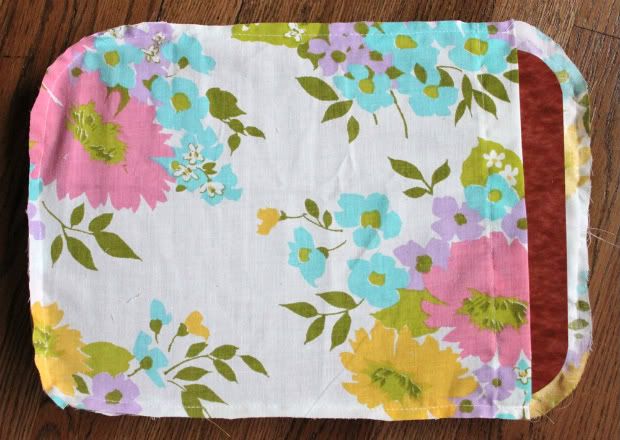 Insert your cardboard or chipboard into the pocket. This will create a more solid layer for picnic items if your basket has any ridges in the bottom of it. You can leave your edges raw as I did (they won't be seen) or use a serger or zig-zag stitch set on a short and medium stitch length to give it a more finished look.

I created a little elastic band to help keep the cups in place in transit by folding over a long piece of yellow fabric and stitching the long edges together. I turned it right side out and folded the short ends under and ironed it flat. Then I stuck a piece of elastic into the tubing and pinned it at one end.
Next, I held the elastic taut and stitched all the way down the middle to create a ruffled effect and to make the elastic a little prettier. I pinned it to a rounded corner section of my picnice basket insert and stitched the short edges down about 4" up from the base. It ended up being a bit loose but it will still help hold the cups in place in transit.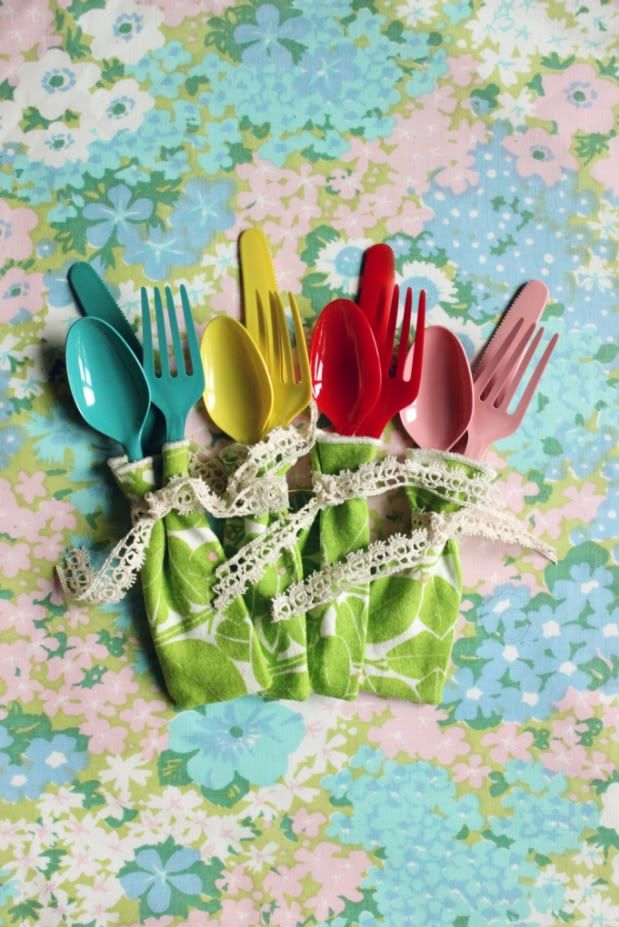 Then I created little pouches for each plastic ware set by cutting out rectangles from leftover vintage fabric that had a serged edge at the top. I folded them together with right sides facing and stitched along the long edges and across the bottom. I turned them right side out, ironed them flat, inserted the plasticware and tied them with vintage lace so they wouldn't fall out. Cute and practical!
Once everything was ready I put it all together and added our vintage plastic ware plates and cups (which were the perfect fit!) and made sure it was ready to go whenever we were. The great thing about this insert is I can take it out and wash it when grape juice gets spilled on it or the mustard leaks.
All we need now are some yummy sandwiches, some sparkling Izze drinks, carrot and celery sticks, and chocolate covered strawberries and we're ready for our first summer picnic!
xoxo,
Rachel