I went over to my friend, Katy's, house last night to drop off my pillow case dresses for their impending Haiti trip and asked her if she'd gotten any dresses in the mail from blog readers. The whole drive over I was wondering how much of a response there had been after sharing this post about making dresses for girls at an orphanage over there.
The part of me that tries not to get my hopes up was going to be okay with five or ten dresses tops. I know everyone wants to help but life is busy and suddenly you're out of time, etc. Imagine my heart skipping a beat when Katy told me she'd been getting package after package and had about 65 handmade pillow case dresses in her house as of yesterday! SIXTY FIVE! Plus the four I brought over. ALMOST SEVENTY!!!
I have never been more proud of and thankful for you guys! You are creative, you are generous, you are thoughtful, you are challenging, and you are compassionate. I appreciate so much that you saw a need you could meet and responded. It's admirable.
I asked Katy if there was still time to sneak a few more dresses in before they left. She told me she could take any dresses that came in before the 17th of June. That's next Friday.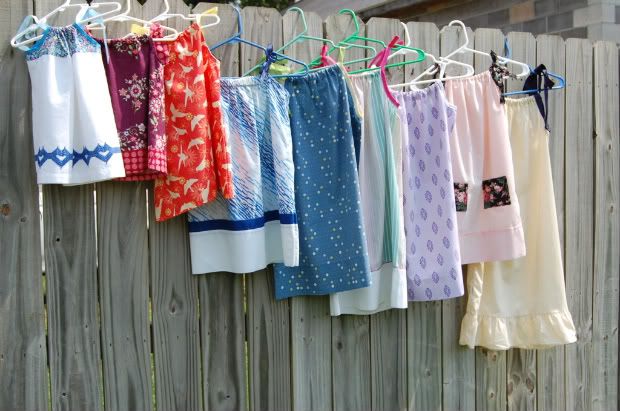 Here are a small sampling of some of the dresses that were sent in. If you were wanting to contribute and can get those dresses in the mail by Monday you can still add to the fantastically beautiful pile.
A note from Katy:
Thank you! Thank you! Thank you!  I just wanted to say thanks to all the lovely ladies that sent in dresses for the girls in Haiti. As of right now, we have 65 dresses to take with us. That is amazing! That means 65 smiles J
All of the dresses are so creative and charming.  Some were from vintage pillowcases, others had pockets added and even one was made from two dish towels.
I was also amazed that ladies were sending thank you cards with their dresses. They were thanking us for allowing them to make the dresses. Wow! That is really amazing, these ladies spent their time, materials and money to ship the dresses and they were thanking us. Never ceases to amaze me the passion others have for sharing their creativity and love.
I can't wait to share pictures after our trip of all the smiles that these dresses brought to the girls of Hinche, Haiti.
Hugs,
Katy
Your encouraging words, enthusiasm, and retweets were all helpful in making this happen! I'm so grateful for the chance to work with you guys and Katy's team to make a little difference in the lives of some special kids.
* An extra special thanks to Stephanie Dunn, Jamie of Baubles and Bits, Hello Merch, Melissa S. Rauseo, Deb Runcimen, Charity Richards, Simone Campbell, Tate of Tate Creates, Linda Boerlin, Alison Gray, J. Vaudo, Natalie Hayn, and Kim Desmond for the lovely dresses sent in.
xoxo,
Rachel