Ever since that afternoon in Seattle when I was gripping the hospital bed and hoping the next big push would bring my first experience of childbirth to a close, the Fourth of July has been a double holiday for the Denbow family.
This year we celebrated Sebastian's fifth birthday in waves. We had a fun, Transformers-themed birthday party with his favorite friends and some family before Brett left for camp almost three weeks ago. It involved a slip-n-slide, an Autobot icon cake, fire flies, and a sick little girl who threw up all over me just before our guests went home. Good memories!
On his actual birthday we got up and decorated the front room table and got ready for the neighborhood parade. This parade is kind of fantastic. It was actually one of the things I was most excited about when we moved in to our current house!
We met up with some great friends and marched around a few blocks along with probably 300 other people and their dogs. Kids had decorated their bikes, their wagons, their scooters, etc. Our neighbor, Kaylee, had even made cute felt bunting for her daughter's stroller! I told her it felt very Gilmore Girls. I loved every hot minute of it!
We ran into new friends and I finally got to meet some ladies and their sweet families that I'd heard so much about. I was spotting vintage dresses and Saltwater sandals from half a block away on moms and kiddos alike!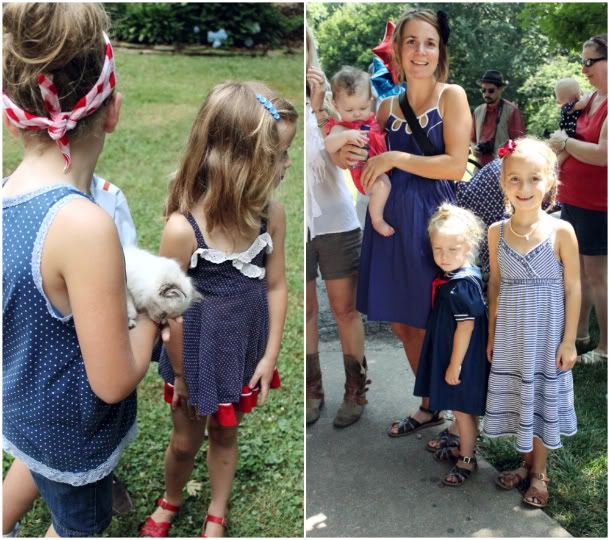 Ruby spent the whole parade in our red wagon but she soon spotted another she wanted to take a ride in.
The end of the parade was a shady lane and a driveway full of cookies, popsicles, ice water, and sodas. The kids all had popsicle stained lips and sugar highs before it was over.
We made it back home to cool off and then brought out the presents I'd been hiding in the closet. Ruby was being as helpful as Sebastian would let her with the present opening process.
I let Sebastian have as much 'sometimes' food as he wanted all afternoon because there are no rules (within reason) on your birthday at our house. Ruby napped and I rested while he finished watching Spiderman 3. It was a nice, easy afternoon.
That evening we went to Target to pick something out with his birthday money (Transformers section of course) and then it was off to bed for the kids. They hadn't been asleep more than thirty minutes when Brett called! I couldn't get Sebastian to wake up for the life of me so he didn't get to talk to his daddy on his birthday but I DID!!!
Our extra special day also involved our car dying for the third time in a few days and our great friends, the Shattos, saving the day with an alternator change. We have been so thankful for all of the ways our friends, neighbors, and family members have cared for us as we do all of this without Brett at home. More things have come up than I would've liked but it's been such an easier experience having the support system we've had available to us this year.
We hope your Fourth of July celebration (if you celebrated) was exciting and appreciate all of the birthday wishes on Twitter and Instagram! Thank you for being so sweet.
xoxo,
Rachel
p.s. Ruby's wearing a vintage dress from Lishyloo's shop and gifted ruby red shoes. Sebastian's vintage shirt is from Miskabelly's shop.